Problem statement
Currently cross institutional data sharing does not exist in the US healthcare system due to multiple challenges like high third party costs, lack of transparency, inadequate auditing. Personal health records are seldom with the individual patients as they are maintained by the institutions, products, services and solutions. Availing seamless medical care across the country is almost impossible. Added to this, most of the healthcare organizations delete personal medical records after certain number of years owing to regulatory requirements and high cost of maintenance. Hence after certain year (6 years), the chances of accessing personal health records are next to nil as they would've been permanently destroyed.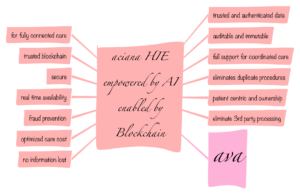 Our Features
Secure and immutable and completely auditable HIE
Helps to eliminate 3rd party HIE vendors
Complete immutable Patient centric Health records
A platform to participate secure HIE for advancing Clinical analytics and research
Fact sheet
$3 Trillion
USA spends in healthcare
30%
results as waste due to inaccessible information
Benefits
To provide secure, immutable and completely auditable to healthcare interoperability system, Patient centric immutable health records, and to create a single platform for HIE there by advancing healthcare analytics.
Other products that might interest you…